What do you get when you mix 3 girlfriends with the beach, great food, even greater conversation and no hubbies or kids? You get a pretty darn relaxing weekend of rejuvenation and reconnection.
I met up with my friends Heathbar and Adj for some girly time in San Luis Obispo. It was trip we all needed. We savored every minute together and took advantage of the awesome weather.
Friday night we arrived at our little hotel room and immediately sprawled ourselves out on the beds. After getting caught up with eachother's lives, we ventured out to Mervyns. Yes, Mervyns. My dear, lovely, moxie-ful friend, Adj, forgot to pack accessories and needed some for the weekend. It was a fun trip out, but boyohboy, retail employees sure aren't fond of you when you walk into their store 10 minutes before closing.
Our next destination was the
Madonna Inn
for some yumm-AY dessert. The Madonna Inn is this kitschy, overpriced hotel with themed rooms. We wanted to stay here, but we thought saving for retirement was a better option for us. So, I don't have pictures of a cool hotel room to share with you, but you have to take a looksie at this beauty. She was so pretty we were afraid to eat her. We did anyways. Hungry girls have no mercy. I realize now that this picture does not do this white cake with raspberry cream filling justice.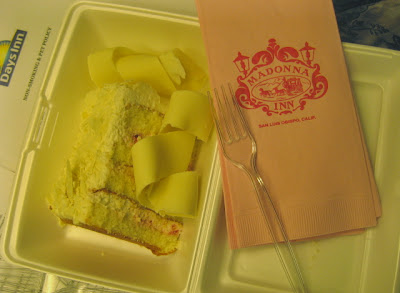 The next morning we set out for some downtown San Luis Obispo shopping. To our amazement we didn't buy much. It was nice to window shop though. As a mom, window shopping of any kind is non-existent. You usually try to get from point A to point B in as little time as possible before the kids realize that you are actually out and about and not at home catering to their every need. Okay, I admit it's not that bad, but it's pretty darn close.
We got hungry after all that walking so we picked
Big Sky Cafe
as our lunch destination. And, what an AWESOME choice we made. The food here was brilliant! I absolutely lost myself in the Vietnamese Bahn Mi Pork Loin sandwich. It was amazing. I drool as I write about it now. What a delicious combination of flavors... spicy cucumbers, carmelized onions and pickled carrots. Wow!
The most relaxing part of the trip came after lunch when we ventured to
Avila Beach
. We grabbed some blankets, drinks, books and tunes and enjoyed just be-ing. It was nice to not have to worry about a thing for a few hours. It also was a wonderful time for reflection. Although I was happy to be in that moment sharing it with two very important friends whom I love I did catch myself daydreaming about my little family which consists of a hubby and 2 kids. It made me appreciate them and feel grateful I have them in my life. Sometimes you get so consumed in the crazy, busy-ness of every day life that you forget the whole reason you put yourself there in the first place. It also made me appreciate my beautiful friends whom I can turn to for support and reassurance.
Me and Heathbar
We spent a good deal of our Saturday hanging out on the beach. And by early evening our skin had had enough so we went back to the hotel to freshen up and get ready for dinner. We wound up at a mexican restaurant and shared a very large Peach Margarita. We had some food too. We then headed back to downtown San Luis Obispo for
The SLO International Film Festival presentation of SHORT SHORTS on the TERRACE
. This was an awesome evening under the stars watching seven short films by independent filmmakers. It was fun to be outside on our beach chairs reacting to each flm and cheering for the ones we thoroughly enjoyed. The audience vibe was cool and it was so fun to be a part of the experience.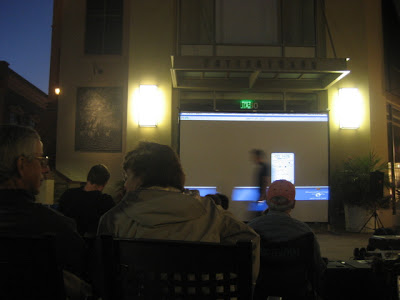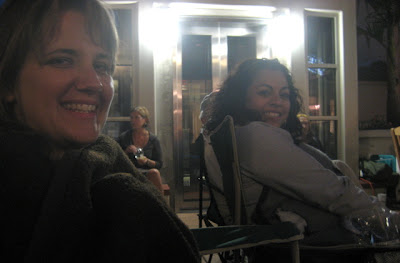 The rest of our night was spent browsing books at the local Barnes and Noble. In the morning we got up early, went to breakfast at
The Apple Farm
, grabbed a couple of pretty gifts from their gift shop and then said our goodbyes. We hope to do it all again in the Fall.